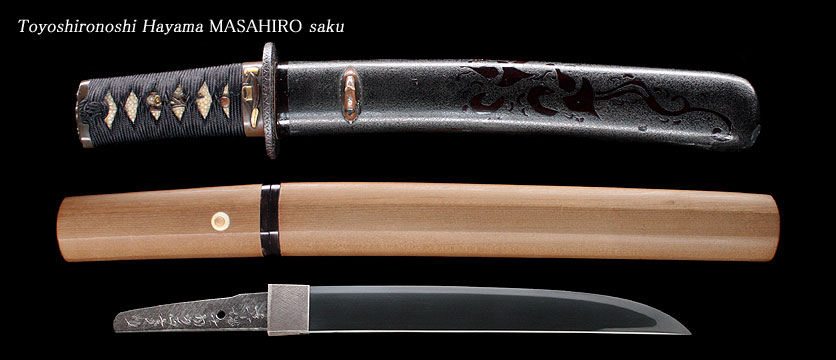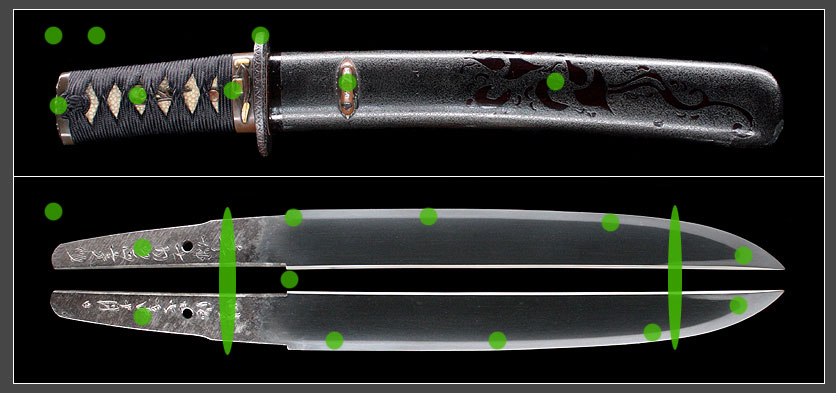 Toyoshiro no shi Hayama MASAHIRO tsukuru
sword smith
Hayama MASAHIRO (= ENSHIN)
period
Meiji 27nen (1894)
length
20.4cm / 6sun 7bu 3bu
curvature
1mm / 3rin
basis width
2.4cm / 7bu 9rin
basis thickness
0.5cm / 1bu 7rin
certificate
Hozon token
price
sold out
shape
tanto : Hira-zukuri, marumune, short and quite small curvature, thin
ji
Koitame closely
ha
Suguha, tight, nie
boshi
Straight and ko-maru
nakago
Ubu, kijimomo shape, filemarking:sujikai, end of nakago:kurijiri
mounting
Shirasaya, Kuro ishimeji-saya tanto koshirae
special mention
Made late in Meiji period 1894, shin-shinto.
Masashiro is the first name of Hayama ENSHIN.
Enshin is one of the very well-known swordsmiths of shin-shinto and second-generation pupil of KIYOMARO.


1506-5 Hirakata Ageo Saitama, Japan  TEL / FAX +81-48-780-3074  info@kanshoan.com